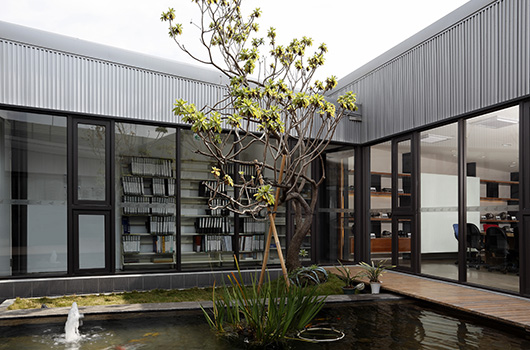 About Microlab
Spindles give the soul for machines that decides the efficacy of machining.
The manufacturer of high efficacy spindles and rotary table for machining center & high speed owns the power of innovative design, and the most important foundation for new product design for MicroLab is by cooperating and developing with our customers.
---
Our Company
Blending of nature and the new modern building, great harmonization between human and nature.
The Light and shadow behind windows vary through seasons, freshen your feeling of breath, have a comfortable smile, with the higher consideration in your mind.
At the sunshine warm afternoon, look the branches and leaves swing with tweeting of birds. In leisure time, come over here for a tour of sensibility.
Mission
MicroLab originated in 1999 at the Precision Machinery Research Development Center, a Taiwanese center focused on fostering the growth of domestic machine tool entrepreneurs. Even with a strong, vibrant machine tool industry, Taiwan still lacked completely domestically sourced and manufactured spindles, independent of foreign manufactured components. In response to this void, MicroLab was established.
High performance infinitely promotes your competitive strength.
Our spirit of strictness and interior standard isn't just for the basic requirement and application, the most important object is to transcend the best performance and safety of products according to the international inspection and evaluation. The best efficacy enhances the value of machines from customers.
Milestone
| Year | History |
| --- | --- |
| 1999 | MicroLab established. |
| 2000 | 1st Pulley Driven & Direct Drive Spindles produced. |
| 2001 | Applied for 1st Logo. |
| 2003 | 1st Built-in Motor Spindles produced. |
| 2003 | Applied for 4 patents. |
| 2003 | Started for Sales of foreign markets. |
| 2004 | Applied for 3 patents. |
| 2004 | Started for Sales of China markets. |
| 2005 | Applied for 1 patent. |
| 2005 | 1st TIMTOS Exhibition in Taipei. |
| 2006 | 1st CIMT Exhibition in Beijing. |
| 2007 | Machining for 3C industry. |
| 2012 | Conducted for VIS enterprise image. |
| 2012 | Ultrasonic spindle. |
| 2013 | 1st EMO Exhibition in Germany. |
| 2013 | 2nd factory established in Songzhu Rd. |
| 2013 | Applied for MicroLab new Logo. |
| 2015 | New type Rotary Spindle Head. |
| 2018 | R & D of A/C Double Rotary Spindle Head. |
Movies